WHAT IS A BRAND?
The concept of a brand is a constant presence in our daily lives, from the morning routine of making coffee to setting the alarm on our phone before going to bed. But how do we define a brand?
A brand goes beyond being a mere graphic symbol representing a product's name. It's not limited to a logo, icon, or slogan. The brand encompasses all the communications emitted by a company, encompassing both its words and actions. It becomes the mission and vision of the entity. Additionally, it includes everything that is said about it in the media, and everything that is felt, thought, and shared. A brand operates as a link, connecting companies to each other and companies to people. Moreover, it is a resource that adds long-term value to all stakeholders of the organization, whether internal or external, and to society as a whole. Similar to other business assets, this tool needs to be cared for and nurtured.
The concept of a love brand
In the field of optics, as well as in other sectors, we operate in an environment characterized by constantly changing needs and the continuous emergence of new technologies offering innovative visual solutions and unprecedented experiences. Within this vast array of options to explore, ophthalmic laboratories, distributors, and other market players seek to differentiate themselves and establish their presence in the minds of consumers. The most influential brands are recognized as "Emotional Brands," also referred to as "Affection Brands." These are successful brands that have projected their essence to the world, positioning themselves as the first choice in the minds of numerous consumers. Emotional Brands are those with an emotional core, a special meaning that connects with the emotions of the audience, and a defined personality that makes them recognizable and distinctive. Notable examples of these brands are found in the "Best Global Brands" list compiled annually by Interbrand, a global agency specialized in brand marketing and identity building. The list features clear examples of these "Emotional Brands," such as Apple, highlighted for the unique experience it provides to its users; Intel, symbolizing innovative leadership; Toyota, evoking quality and reliability; and Ikea, recognized for its functionality.
Image 1: Representation of "Emotional Brands".
The "Brand Key": The Ultimate Tool for Creating a "Love Brand"
There are numerous tools available to build a brand, but unquestionably, the "Brand Key" developed by Unilever is one of the most recognized. This tool encompasses all the essential elements for creating an "Emotional Brand" and provides the ability to track the brand's evolution over time, as well as identify future growth opportunities.
The "Brand Key" encompasses both internal and external aspects of the company, considering both the product and the solution it offers, as well as the environment in which it operates. Let's consider the perspective of an ophthalmic laboratory and use this tool as a guide to develop a brand identity strategy, with the aspiration that the laboratory's brand(s) become as valued and recognizable "Emotional Brands" for its consumers and clients as many others.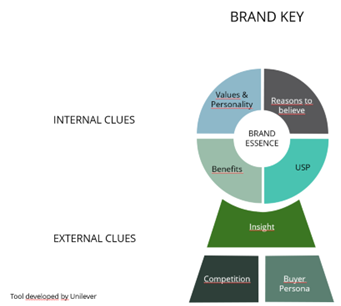 Image 2: Brand Key. Tool developed by Unilever.
.
EXTERNAL ASPECTS
In relation to the external aspects to consider in developing the laboratory's brand key, the first involves analyzing the competition. This initial aspect is reflected in a benchmarking graph, which highlights the strong point that our solution offers, and in a positioning map, which establishes the relationship between two distinctive aspects of our product compared to other existing solutions in the market.
Examples of strong points for an ophthalmic laboratory brand could include:
Versatility: The laboratory's ability to offer innovative visual solutions that meet current visual needs.
Expertise: Experience in patient care, always seeking the most suitable solution for each case.
Another essential aspect to analyze in depth is the "buyer persona." At this point, it is crucial to clearly understand who the ideal buyer is. In the case of the ophthalmic laboratory, the sales focus is primarily B2B, meaning there are various "buyer personas" to address when selling products. These include the owner of optical chains, store managers, and opticians at smaller optical shops. Each of them has different motivations and needs that must be identified.
Once the "buyer personas" are defined, a "map of empathy" should be created for each one, understanding their thoughts, feelings, perceptions of the environment, comments, and actions. This information is essential for developing a strong and understandable brand for all audiences. Examples of motivation for different "buyer personas":
Owner of optical chains: Increase margins by selling higher value-added products.
Store manager: Increase sales per salesperson.
Optician at a smaller optical shop: Generate satisfied patients to increase prestige and credibility, promoting word-of-mouth referrals.
Once the "buyer persona" is defined and we understand their problem or need, as well as our ability to solve it, the next step is to present the "commercial insight," providing information on how our product addresses the customer's need. An example of "commercial insight" for an ophthalmic laboratory: highlighting our experience in treating a wide range of patients and our knowledge of various visual solutions, generating confidence and prestige for the professional.
INTERNAL ASPECTS
Regarding the internal aspects, these form the brand's positioning, including values, personality, reasons to believe, benefits, unique selling proposition, and essence. These elements establish the brand's identity and align it with the company's mission, giving it direction and uniqueness.
Values are distinct and credible, visible through the visual identity, typography, and colors. Personality is manifested in verbal identity, that is, how the brand communicates with its audience. Some examples of values and brand personality for an ophthalmic laboratory:
Brand values: innovation, learning, customer focus.
Brand personality: approachable, innovative, educational, versatile.
In terms of communication, it is essential to use simple and direct language that concisely explains the message's content. The recommendation to "clarify the message for people to listen" is crucial. The "buyer persona" should be positioned as the protagonist, and the brand as the guide that will help them achieve their goals and aspirations.
The ophthalmic laboratory works daily to support professionals in their visual needs, ensuring quality and visual experience in line with their lifestyle and visual habits. Other internal aspects to consider are the benefits and reasons to believe. Benefits are differential advantages that motivate purchase, both functional and emotional. Reasons to believe validate the benefits the brand offers.
The final aspects in the brand strategy are the Unique Selling Proposition (USP), which succinctly summarizes the brand's differential value, and the brand essence, summarized in a slogan. An example of a USP for an ophthalmic laboratory: leveraging an innovative portfolio and an expert team to meet the specific needs of each patient, collaborating with professionals to provide ideal visual solutions.
CONCLUSION
In summary, creating a brand involves a deep analysis of various aspects. The brand key is a comprehensive tool that not only helps build the brand but also continuously audits it, enabling its growth and evolution to become an authentic love brand.
References
1.Operative Marketing: Brand Management – Marketing and Sales Management. EAE.
2.The brand as a corporate strategy. Josep M. Oroval. Harvard Deusto Business Review.
3.Deciphering the DNA of brands. JM Cubillo Pinilla.
4.Lovemarks: the future beyond brands. Kevin Roberts.
5.Building a story-brand. Donald Miller.2022 best global brands. Interbrand.com. https://interbrand.com/best-global-brands/