The Digital Era has changed the way we live and work. Intensive use of digital devices has become normal for most people, something that has only increased with remote working.
Multi-tasking has become part of normal life: we regularly carry out several activities at the same time, often across different screens.
In this context, eye-care professionals must be able to offer visual solutions that respond to current visual needs in the multi-screen office environment.
A recent study carried out by HORIZONS OPTICAL to test a new OFFICE design has identified 3 key needs for digital workers today:
THE IMPORTANCE OF ERGONOMICS
There are ergonomic and postural issues linked to the use of digital devices. These musculoskeletal disorders are caused by things like maintaining a static position over a prolonged period of time or poor head posture such as over-inclination of the head (tilting forward more than 30°). Given that people spend a large part of their day in the workplace, identifying their ergonomic requirements is key. Visual ergonomics are an essential consideration when it comes to protecting workers exposed to digital screens. The OFFICE design should be approached from an ergonomic perspective to deliver comfortable posture.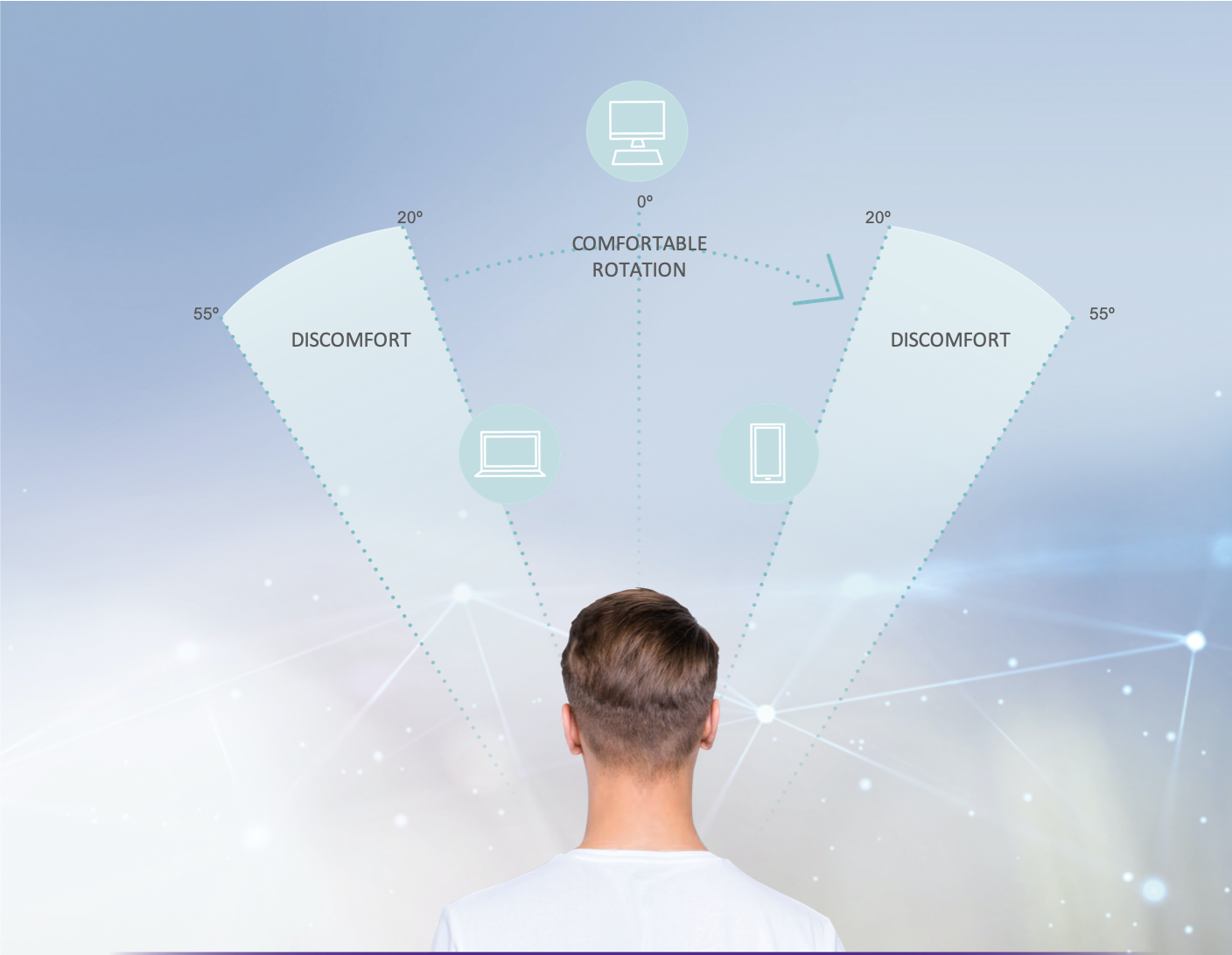 WIDE FIELD OF VISION WITH NO RESTRICTIONS FOR FOCUSING AT DIFFERENT DISTANCES IN THE MULTI-SCREEN ENVIRONMENT
Our visual system has a binocular horizontal visual field of 150º, increasing to 180º when monocular peripheral vision is included. The vertical field is 130º, 60º up and 70º down. In a multi-screen environment, patients require sharp vision across the horizontal field, taking into account the peripheral vision of the lens and avoiding the swim effect when looking from one screen to another.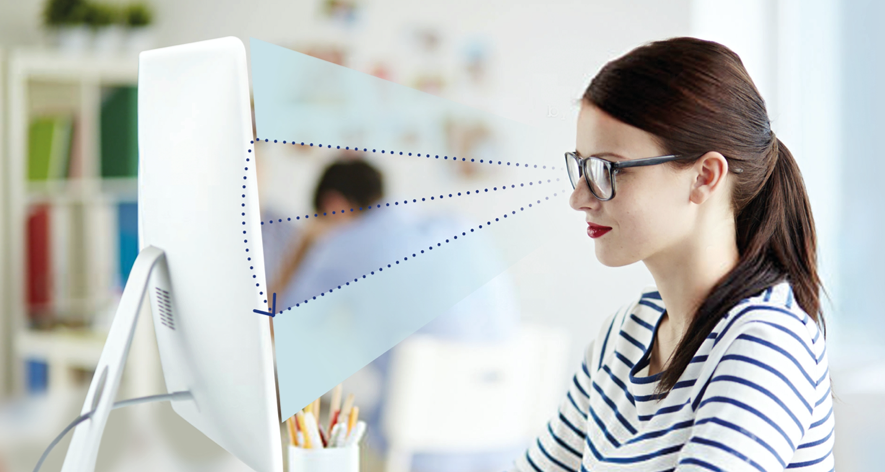 SMOOTH TRANSITION WHEN SHIFTING FOCUS FROM ONE SCREEN TO ANOTHER
Digital screens demand small but constant changes in accommodation, which is why good flexibility is essential. Good flexibility in terms of convergence is required, as small changes in convergence are constantly being made when looking at digital screens. Therefore, OFFICE design should deliver a smooth transition when shifting focus between different screens within the workplace.
THREE PROFILES
Study participants tested a new OFFICE design for two weeks. The average age of participants was 49, and smartphones were used across all three profiles.
According to the devices they use the most, participants were divided into three profiles: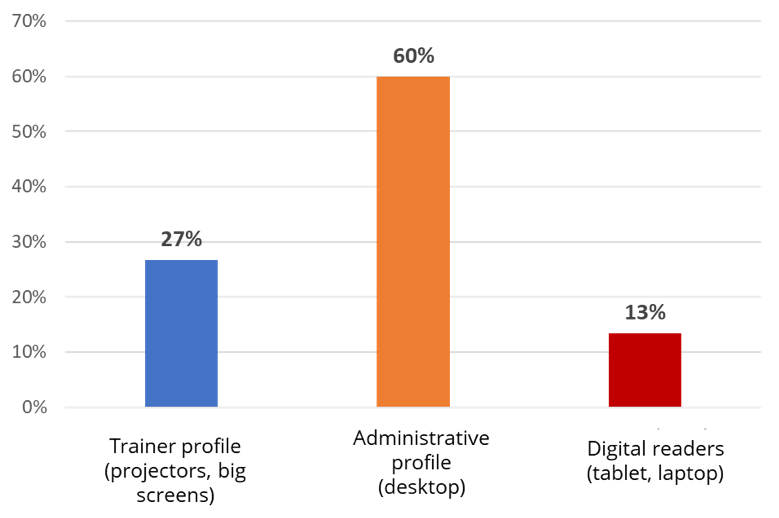 SAMPLE CHARACTERISTICS
7/10 are users of progressive lenses
93% of the sample uses electronic devices in their office environment
80% spend 5+ hours a day in front of electronic devices.
RESULTS
Given that the study was focused on the office environment, user experience of mid and near distances were analyzed.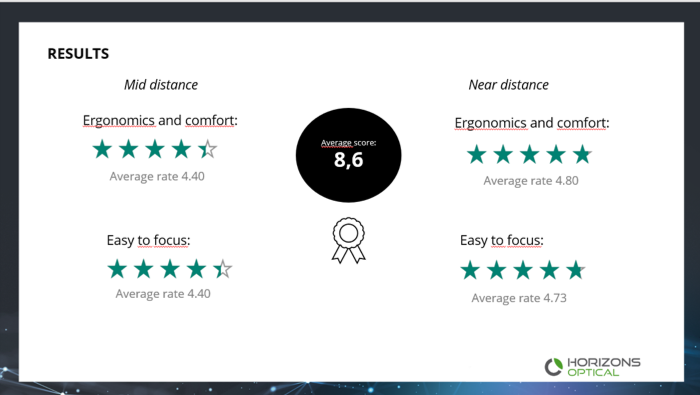 TESTIMONIALS
After 2 weeks wearing new OFFICE lenses, participants say:
[Revised speech bubbles – '…' should be removed from bubbles one and two, and replaced with a full stop. Closing speech marks should be added to the end of all bubbles]
"I don't have to lift my head up much when looking at the screen."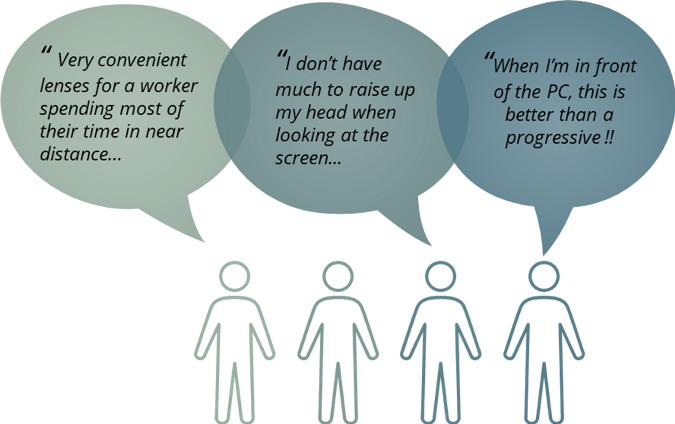 CONCLUSIONS
OFFICE lenses should be adapted to the Digital Era in which we are surrounded by multiple devices.
Users are looking for free vision when using electronic devices.
Ergonomic design is essential for providing comfort to workers.
Different profiles can have their specific needs in the office environment met with different versions of the OFFICE design, that take into account the most convenient working distance.
A final consideration is the blue light emitted by electronic devices which affects the hormone that regulates our sleep cycles. For this reason, it is a good idea to apply a protective filter to take further care of our visual health.
4th of June 2020, HORIZONS OPTICAL
REFERENCES
-El estado de la visión próxima en el trabajo y el ocio. Universitat Politècnica de Catalunya, Mayo 2015.
-Estado acomodativo en usuarios de computador: manejo optométrico. Ciencia y Tecnología para la Salud Visual y Ocular, Vol. 7/Nº1: 83-93. Enero-Junio, 2009.
-Gestión Práctica de Riesgos Laborales, nº27, pág. 42, mayo 2006.
-Iluminación en el lugar de trabajo. Ergonomía visual. Universitat Politècnica de Catalunya.
-Introducción a la Ergonomía. Ergonomía visual. Universitat Politècnica de Catalunya.
-Recomendaciones ergonómicas y psicosociales. Trabajo en oficinas y despachos. Universidad Complutense de Madrid.
-The challenges of digital vision in a multi-screen world. International Review of Ophthalmic Optics, 2015.
-Trabajo con pantallas de visualización de datos (PVD). Ergonomía visual. Departamento de Óptica y Optometría -UPC.